Wild Posy Co. are two crazy petal heads looking to tell stories and capture emotions through their whimsical floral designs.
Co-owners Tiarna and Jody are so akin in their obsession for all thing's flowers and approach to florals, that together it just works!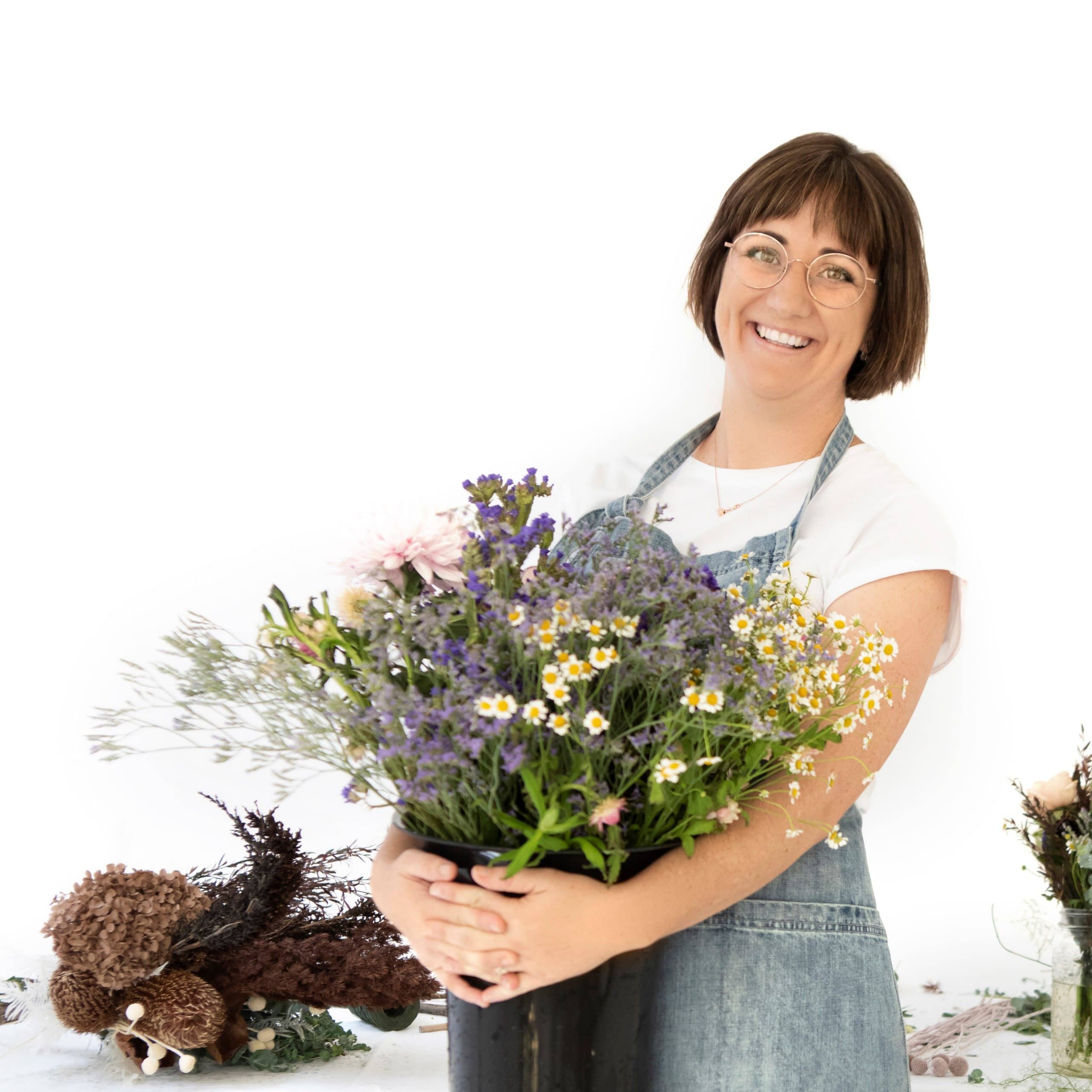 Jody
If you are ever fortunate enough to have a conversation with Jody, co-owner of Wild Posy Co, you will walk away smiling. Jody's vibrancy and passion for flowers is infectious. When speaking with her, you just know that this is someone who has found their calling early and loves what they do.
Jody's love of flowers started when she was a child. Her aunt worked at a florist shop and also maintained a beautiful garden of her own. This is where Jody first got a glimpse of the joy flowers brought to people's lives. Her aunt also taught her some arrangement techniques, and this is when Jody's unique flair for design was recognised: after she entered her bouquets in the annual rural show and won first place for her division.
Whilst Jody has done other jobs since completing school, the sweet aroma of florals kept haunting her. So much so, that after having her second child, Jody's idea of 'me time' was taking arrangement classes with another Mackay florist. That relaxing, creative outlet took root inside Jody once again, and this time she just knew that it was what she had to do with the rest of her career.
The universe seemed to agree because it happened to put Jody's future business partner, Tiarna, in the same room. By coincidence, Jody was taking classes at the florist where Tiarna worked. The ladies hit it off and, a few months later, they established Wild Posy Co.
While, in Jody's eyes, her love affair with flowers is hardly 'work', she does on occasion indulge in other enjoyable activities. When not spending her downtime with her family on beach adventures or window shopping, you may catch her at a Zumba class or playing walking soccer.
Tiarna
Co-owner of Wild Posy Co, Tiarna, took a long journey to find her floral bliss. In fact, it took a road-trip of self-discovery, down the Australian East Coast, and a lengthy detour through muddy flower fields, before she was convinced that floristry was her calling!
Tiarna was set to become a primary school teacher, but she deviated, knowing it wasn't the right fit for her. So, she exchanged her sunny beachwear for gumboots and windbreakers and headed down-south with a friend for an experience unlike any other; for it was on a flower farm in Bundaberg.
Here Tiarna found her interest peaked as she learned about the wholesale and commercial sides of floristry as her new boss was growing and supplying fresh cut flowers around Australia. Tiarna was excited to learn and be a part of all the work that goes on behind the scenes to produce what consumers can enjoy from a Florist. She felt this part of the industry was entitled to more of the limelight. So, at every available opportunity, she made it a point to educate the consumer.
By regularly attending the markets throughout the Bundaberg region, Tiarna quickly grew a reputation as someone passionate about the industry. Her insights, coupled with her finesse, design flair and careful use of local flowers, saw her regularly approached by customers seeking affordable and unique occasion bouquets. Pretty soon she was working on specialised, full wedding designs throughout the Bundaberg, Hinterland and Central West NSW region.
When Tiarna eventually made her way back to Mackay, she kept her foot in the door with the floral industry by obtaining work as a florist in the region. Then fate intervened again, by putting Jody in the same room with Tiarna. The two petal heads struck up an instant friendship through their shared passion for boutique floral designs and laid plans to work together. Pairing their shared love for flowers, their creativity ran wild through their whimsical boutique designs and consequently, Wild Posy Co was born!